Perun Lodge Hotel
Adresa: Georgi Nastev Str, Bansko 2770
Coordonate GPS: 41° 49′34′′N 23°29′1′′E
Localizare: Perun Lodge este situat la 350 m de telegondola si la 800 m de centrul orasului Bansko.
Cazare: Hotelul MPM Perun Lodge dispune de 74 studiouri, 110 apartamente cu un dormitor ºi 20 mezonete, dotate cu bucatare complet echipata, TV, telefon, mini bar, baie cu dus.
Bãuturã & Mâncare: Restaurantul serveste preparate bulgaresti tipice si mancaruri internationale. Lobby barul ofera oaspetilor o mulþime de cocktailuri delicioase.
Spa & Wellness: Relaxaþi-vã în spa centrul modern. Hotelul oferã o gamã largã de tratamente si facilitati de relaxare, gym, sauna, baie de aburi, hammam, piscina, jacuzzi.
Facilitati: garaj, Internet, teren de joaca pentu copii.
**Hotel rooms may vary in size and style. Guests can be accommodated in a different room from the images shown here as examples only.
Comentarii Perun Lodge Hotel in Bansko
Comentarii despre Perun Lodge Hotel in Bansko.
Vom aprecia acest lucru. Aceasta ne ajutã sã îmbunãtãþim conþinutul site-ului nostru.
Preturi pentru Perun Lodge Hotel, Bansko
Cautare

Selectati Hotel

Revedeþi detaliile de rezervare

Cererea de rezervare a fost trimisa.
Vã rugãm sã completaþi datele personale în formularul. Mai multe detalii despre procesul de rezervare puteti afla aici sau citi termenii și condițiile. Aveți probleme cu rezervarea dvs.? Contactati - ne
Verificati preturile la hotelul
| Tupul de camere | Masa | PS | LS | NY | MS |
| --- | --- | --- | --- | --- | --- |
| Camera Single | BB | 66 € | 72 € | 148 € | 76 € |
| Studio | BB | 87 € | 96 € | 148 € | 101 € |
| Apartament cu 1 dormitor | BB | 99 € | 108 € | 159 € | 112 € |
Preturile sunt in EUR, pe noapte, pentru o camera / apartament. Vã rugãm sã completati formularul de rezervare.
Notă
* The rates are in Euro per studio/apartment per night, breakfast included, free use of indoor swimming pool, sauna, steam bath, ski storage for own ski equipment, free WiFi, shuttle bus to/from Gondola Lift station are included.
* Min stay during New Year Period - 3 overnights.
* Cancellations:
- For the period 28.12.2023 - 03.01.2024 - no penalty is due up 01.12.2023. For cancellations after this period – 100% penalty; No show - 100% penalty.
- For the periods 01.12.2023 - 28.12.2023; 04.01.2023 - 10.04.2024 – no penalty is due up to 14 days before arrival date (for all reservations with early booking discount) and 5 days for all other reservations. For cancellations after this period – 50% penalty. No show - 100%.
* For all reservations with Early booking discount is required a 30% deposit within 5 days of making a booking. If the early booking reservations are not paid until the end of the early booking period, they will be calculated without early booking discounts.
For reservations made from 14 to 3 days before arrival date – 100% prepayment is required within 3 days of making the booking but not later than 3 days before arrival date.
Force majeure:
In the conditions of a pandemic and declaration of a state of emergency or epidemiological situation by the competent authorities in the Republic of Bulgaria or the country from which the tourists come, as a result of which the borders are temporarily closed and / or suspended the provision of the services, inability to reach Bulgaria and use the services in hotels, ski packages and transfers such as flight ban, temporary restriction of travel, quarantine and the like, we will provide the tourists with the following options for compensation:
1. Opportunity for the clients to change the reservations for the same tourist package with another date of travel, convenient for them in the period until 24.12.2023, and in a long enough time they will inform about the desired dates of accommodation. This will be done by changing the reservation and cancelling the previous reservation free of charge. It is also possible to change the persons on the reservation, but without changing the type of services used.
2. Possibility to use the amount paid for each reservation as a credit voucher for value, whereby the money of the tourist will be transferred for future use of a tourist package or tourist service. The validity of the credit voucher, the period in which it can be used is 24 months from the date of issue. This value voucher can be transferred for use to a third party following the relevant procedure.
3. Opportunity to refund the funds within 12 months after the end of the State of Emergency, according to the legal provisions with the issuance of a credit notice to the invoice.

Facilitati
room service
seif
informaþii
internet
centrul de afaceri
parcare exterioara
personal multilingual
Internet (cablu)
WiFi Internet
facilitãþi de conferinþe
220v/ 50Hz voltaj
mini-golf
centru de fitness
piscinã exterioara
camera cu aburi
solar
sauna
masaje
jacuzzi
hydrojet
centru medical ºi spa
reabilitare
tratamente balneo-climaterice ºi spa
tratament lumina intens pulsata
cosmetica medicala
program de slabit
programe antistres
Facilitati in camera
aer condiþionat
telefon
cablu/ satelit TV
internet
seif
frigider
aragaz electric
echipament de bucatarie
facilitati de preparare ceai/cafea
birou
baie/WC
cadã
halate de baie
uscator de pãr
balcon
izolarea fonica a ferestrelor
sistemele de inchidere electronice
servicii zilnice de menaj
uscator prosop
sisteme de control local de AC
set de baie
buton de panica
pãtuþ pentru copii
sat TV
duº
Aceasta zona este potrivita pentru
relaxare
turism
plimbari
pescuit
înot
vânãtoare
degustare de vin
sporturi montane
ciclism montan
Evenimentele culturale
Vizitare a obiectivelor turistice
afaceri
Atracţii turistice in regiunea
munte
natura frumoasa
viata de noapte
monumente istorice
paduri
rezervația naturalã
centre comerciale
Comentarii despre Perun Lodge Hotel, Bansko
Comentarii Perun Lodge Hotel
Mediu de la 28 Recenzie
Personalul Hotelului
3.3/5
Servicii/ Facilitati
3.6/5
Oferte in Perun Lodge Hotel, Bansko
Perioada: 29 Mar 2018-30 Nov 2023

Oferta Detaliata :

Inscrieri Timpurii:
- 15 % reducere pana la 30 Sept 2023.
- 10 % reducere pana la 30 Nov 2023.
Last Minute in Perun Lodge Hotel, Bansko
Pentru cele mai bune oferte va rugam sa ne contactati pe Trimite un e-mail sau sunati-ne: +359 2 962 22 13
Early Booking in Perun Lodge Hotel, Bansko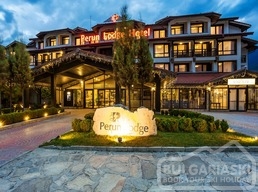 Perioada: 29 Mar 2018-30 Nov 2023
Oferta Detaliata :
Inscrieri Timpurii:
- 15 % reducere pana la 30 Sept 2023.
- 10 % reducere pana la 30 Nov 2023.
Mai multe despre
Mai multe hoteluri in